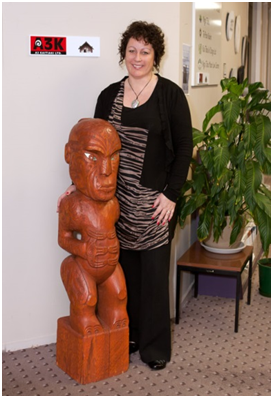 Staff Profile - Michelle Taiaroa-McDonald
Michelle is of Kai Tahu, Kati Mamoe Waitaha descent and has been managing A3K since its creation in 2007. Born, bred and remains in her beloved Otakou at the foot of her marae, she has had the priviledge of living in idylic surroundings and very much within her hapu. The importance of living within values such as manaakitaka, rangatirataka, whakawhanaukataka and aroha have set her up well to lead this company to deliver such sustainable change.
Michelle's background is criminal justice and has been working within the industry since 1986. During that time she could see so much room for improvement that would not only positivley alter the pathways of the Maori men but would benefit our professionals through increasing their cultural competency therefore enhancing their level of service delivery to Māori. A3Kaitiaki has provided that portal.
Michelle is married to Neil, a commercial fisherman and between them have 3 children, Blake, Ella and Taiaroa.
We ask Michelle…
What drives you?
I have worked in the industry since I was 16! It is ingrained in me! I have been lucky enough to have been brought up within a village full of relations so we were cared for and growled at but 15 sets of parents and played with and taught all the cool stuff by many older cousins. This upbringing set me up to awhi (support) others however that may look. I am deeply saddened for people that have been removed from that Maori upbringing so to get the opportunity to give some of that back to them is wonderful. My parents' generation were the children of the "speak no reo" era. What couldn't be silenced was the love and support only whanau can provide though.
If you could have dinner with someone famous who would it be and why?
If I could have dinner with someone famous it would be my great, great grandfather H K Taiaroa MP. He dedicated his life to the wellbeing of his people. He was intelligent, cunning, honourable, brave and driven. He was a gracious visionary. I want to know if he had his time now what would he do?