A3K and Anglican Family Care: A cultural collaboration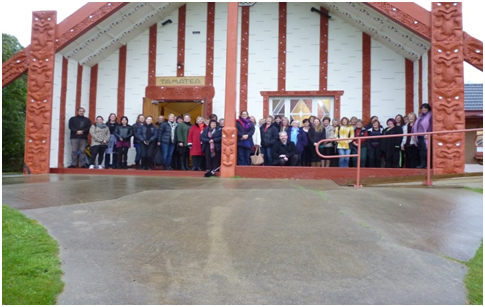 Anglican Family Care staff at Otakou Marae
In June of this year, A3K delivered a professional development wananga to the staff at Anglican Family Care. Their entire team took part, from management and board members through to social workers and the support team, numbering approximately 45 in total. A3K worked in collaboration with Anglican Family Care's management prior to the day in order to identify their objectives: those being to increase individual knowledge and confidence of cultural competency for their registration as social workers, but also to link their practise back to cultural expectations and the needs of the Maori community.
"In what has been a challenging year for Anglican Family Care, the opportunity to spend time on the Marae as a team in such a caring and nurturing environment was invaluable", said Anglican Family Care's director Nicola Taylor. "The spectrum of cultural immersion within our team is diverse – from those that live and work in the Maori community, to those that had never set foot on a Marae. The A3K team ensured that the content of the day was relevant for us all, and everyone took away new knowledge and skills to apply to our day to day work."
This was their first structured cultural professional development day with A3K and the group was warmly welcomed onto Otakou Marae, which in itself was significant says Nicola. "The beautiful setting on the Otago Peninsula combined with the sense of belonging and place inspired a truly memorable session," she said.
A follow up evaluation has now been carried out to ascertain the ongoing cultural competency requirements for the organisation, and the A3K and Anglican Family Care partnership will continue well into 2015 and beyond.